View Our 2014 Catalog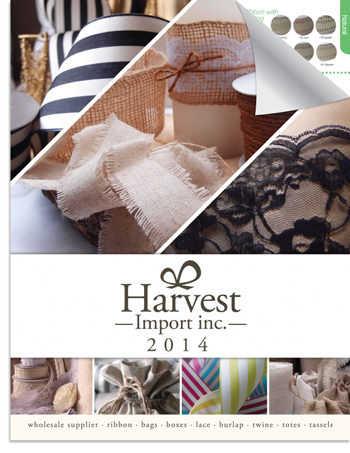 Show Dates
Welcome to Harvest Import, your greatest resource for wholesale gift bags, boxes and more. Packaging supplies are brought to you factory direct.Wholesale inquiries only. If this is your first time, or you haven't registered to see wholesale pricing yet, it only takes a minute to register now.
You will find the finest in eco friendly natural materials that fill the needs of retailers, distributors and corporate buyers. Professional event planners also benefit from the incredible variety and custom design imprinting Harvest Import offers in-house.
From perfume, to floral, to wedding favors, to anything you need to market, you have custom design expertise at your service. Get ready to give your gift packaging the greatest designs to increase your brand awareness and ultimately benefit your business.
Gift packaging made straight from natural materials (cotton, sinamay, burlap, jute, non woven, muslin) retains a simple and wholesome feeling that can outlast any fad. We've recognized this long before the current Green Packaging Movement. And, we've created a large variety of eco-friendly products made from a few reliable fibres that have been used extensively in packaging for centuries. These plant fibres are well known for their durability and versatility of use, as well as for being sustainable and biodegradable. At our low prices, what's there to lose? With our plethora of Earth-friendly and Pocketbook-friendly selections, we encourage you to make a gift of Nature!