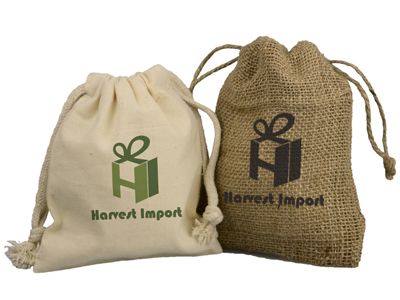 Custom Design
Just can't find the right size, shape, color, or…all of the above?

At Harvest Import, we manage the creation of a product, from design to manufacturing to transcontinental shipping. If there's something you'd like but can't find, let us be your guide. Feel free to contact us about our full range of customizations.
Logo Printing


It's important to consider the size and color of your logo and the material on which it will be printed or hot-stamped.
The dimensions (width x length) and placement of your image
Logos are usually made with one, two, or three colors. Just e-mail us the image file and we can advise you on the feasibility.
Your logos might appear more boldly on some fabrics and plastics than others. We have experience printing on all our fabrics and plastics (cotton, burlap, velvet, satin, sheer, polypropylene, you name it!).
Special Sizes

We already carry various sizes in our boxes, bags, and ribbon that are customizable. Do let us know what just isn't fitting right for you. We can make adjustments.
*Minimum order of 500 pcs/per pattern for bags
*Minimum order of 20,000Y for printed ribbon
Special Colors


Send us an image or let us know the Pantone® standardized color code. Dyes can be tricky. We've seen dyes bleed differently on some fabrics and shift into other hues. We will share our experience with you.
*Minimum order of 6,000 bags per color
Bespoke Manufacturing


We understand that sometimes nothing short of Perfect will do. Fortunately, nothing is impossible. Let us know your specifications and we will try to make it happen!
*Minimum order of 6,000 bags per design
Important Considerations

Customizing can involve making new molds or mixing new dyes. Or, we might already have the materials on hand. This means our minimum quantities can vary per project. Let us know what you have in mind, and we'll advise.
We understand that ASAP is a given. We communicate regularly with our production and can advise you on the production schedule in regards to sampling, manufacturing, shipping (sea or air), customs, labor holidays, and weather.